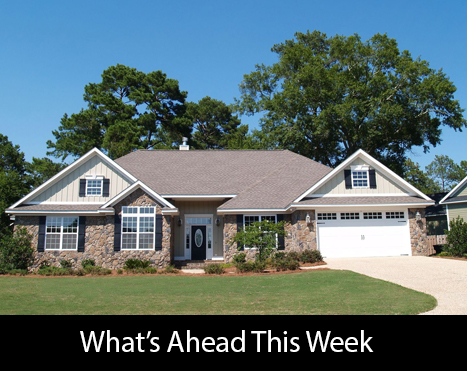 Last week's economic news included readings from the National Association of Home Builders on housing market conditions and reports on housing starts and building permits issued.
Fed Chair Jerome Powell testified before Congress about the impact of Covid-19. Weekly reports on mortgage rates and first-time jobless claims were also released.
NAHB: Home Builder Confidence Improves in May
Home-builder confidence rose seven points in May to an index reading of 37; April's reading of 30 was the lowest reading for the NAHB Housing Market Index since June 2012. Low mortgage rates and expectations that the worst of the Covid-19 pandemic had passed contributed to higher readings for builder confidence.
Component readings in the Housing Market Index were higher in May; builder confidence in current market conditions rose six points to 42.
Builder confidence in home sales within the next six months rose ten points to 46, and the reading for buyer traffic in new housing developments rose from 13 to 21. Readings below 50 are historically common for buyer traffic, but mandatory shelter-at-home rules kept more potential buyers away.
NAHB Housing Market Index readings above 50 indicate that most builders surveyed were positive about U.S. housing markets. Readings below 50 indicate that most builders surveyed were pessimistic about housing conditions.
Fed Chair Urges Congress to Help Pandemic Victims
Fed Chair Jerome Powell testified before Congress and said that those impacted by Covide-19 should receive as much assistance as possible. While Congress approved Federal Reserve Loans to mid-to-large businesses, Mr. Powell reminded Congress that they must also do as much as possible to help low to moderate-income families and businesses and cited a Federal Reserve study that reported 40 percent of households making less than $40,000 lost a job within the first month of the pandemic.
Sales of Pre-Owned Homes, Housing Starts, and Building Permits Issued Fall in April
The Commerce reported lower readings for sales of pre-owned homes, housing starts, and building permits issued in April. Sales of previously owned homes fell to a seasonally-adjusted annual pace of 4.33 million sales as compared to the March reading of 5.27 million sales.
Housing Starts fell to an annual pace of 891,000 starts in April as compared to 1.276 million starts reported in March. The Commerce Department reported 1.074 million building permits issued on an annual basis; this reading was also lower than the March reading of 1.356 million permits issued but was higher than the expected reading of 996,000 permits issued.
Mortgage Rates Fall as New Jobless Claims Rise
Freddie Mac reported lower mortgage rates last week; the average rate for 30-year fixed-rate mortgages was four basis points lower at 3.24 percent. Rates for 15-year fixed-rate mortgages averaged 2.70 percent and were two basis points lower than for the prior week.
Rates for 5/1 adjustable rate mortgages averaged 3.17 percent and were four basis points lower. Discount points averaged 0.70 percent for fixed-rate mortgages and 0.40 percent f04 5/1 adjustable rate mortgages.
New jobless claims reported by states fell to 2.44 million claims filed as compared to the prior week's reading of 2.69 million initial claims filed. The reading for state and federal jobless claims filed rose from 3.21 million to 3.30 million as applicants applied for additional jobless benefits offered through federal pandemic relief programs.
What's Ahead
This week's scheduled economic readings include Case-Shiller's Home Price Indices, the FHFA Home Price Index, and data on new home sales. Monthly readings on inflation and consumer sentiment are scheduled along with weekly readings on mortgage rates and new jobless claims.