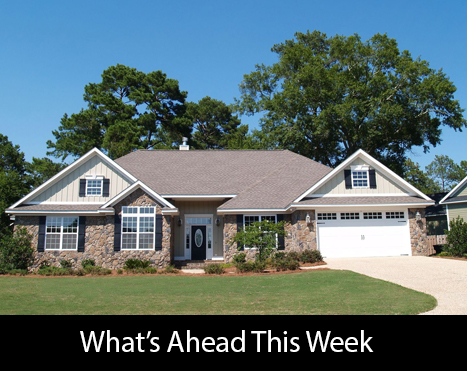 Last week's economic reports included readings on sales of new and previously-owned homes along with weekly readings on mortgage rates and new jobless claims.
Home Sales Lower in April
Sales of new and previously-owned homes were lower in April. The Commerce Department reported sales of new homes at a seasonally-adjusted annual rate of 662,000 sales. New home sales were 1.50 percent lower than for March, but were11.60 percent higher year-over-year.
Analysts expected new home sales to rise to 682,000 sales based on the March reading of 672,000 new homes sold. Sales of new homes are calculated based on a small sample of sales and are typically subject to adjustment. Year-to date sales were 8.40 percent higher year-over-year.
New home sales were downwardly revised for the past three months, which could indicate a slowing in the market. Higher interest rates and rising home prices may be taking a toll on buyer enthusiasm. Fewer buyers caused the inventory of homes for sale to increase to a 5.40month supply. Real estate pros typically consider a six-month supply of available homes a normal inventory of homes for sale.
Sales of previously owned homes were also lower in April; the National Association of Realtors® reported seasonally-adjusted annual sales of 5.46 million homes as compared to expected sales of 5.50 million and March sales pace of 5.60 million sales of previously-owned homes. While fewer sales can relieve demand and ease rising home prices, it appeared that potential buyers are waiting for more options.
Sales of pre-owned homes were 2.50 percent lower than for March and were 1.40 percent lower year-over-year; this was the second consecutive month for a lower year-over-year sales reading. The inventory crunch of pre-owned homes for sale has reduced the average sales period to decrease to 26 days.
Mortgage Rates Rise, Sideline Buyers and Sellers as New Jobless Claims Rise
Freddie Mac reported the highest average mortgage rates in seven years. 30-year mortgage rates averaged 4.66 percent; rates for a 15-year fixed rate mortgage averaged 4.15 percent and rates for 5/1 adjustable rate mortgages averaged 3.87 percent.
Discount points averaged 0.40 percent for fixed rate mortgages and 0.30 percent for 5/1 adjustable rate mortgages. Mortgage rates have not risen so fast at the beginning of the year for 40 years. Analysts at Freddie Mac said that home sellers, as well as buyers, may be sidelined as inventories of homes shrink and mortgage rates rise. This could mean that sellers as well as buyers will wait until market conditions and mortgage rates ease.
First-time home buyers accounted for 33 percent of existing home sales; this was lower than the average of 40 percent. First-time buyers are important to real estate markets as their purchases of pre-owned homes enable homeowners to buy their next homes.
New jobless claims rose to 234,000 claims filed as compared to expectations of 219,000 new claims filed. 223,000 new claims were filed the prior week.
What's Ahead
This week's scheduled economic releases include readings from Case-Shiller on home prices, construction spending and pending home sales. ADP and Non-Farm payrolls and the national unemployment rate will also be released.