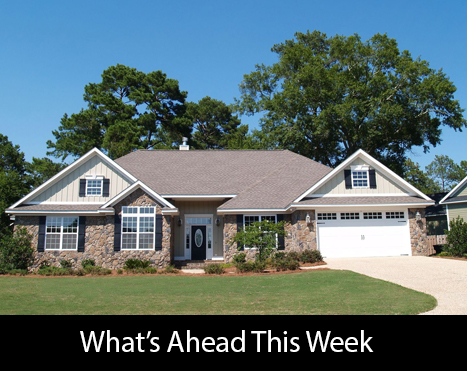 Last week's economic news included readings for Case-Shiller Home Price Indices, Commerce Department readings on construction spending and the University of Michigan's reading on consumer confidence. Labor sector reports on jobs growth and the national unemployment rate were posted along with weekly readings on mortgage rates and first-time jobless claims.
Case-Shiller: Home Price Growth Lowest in 20 Months; Construction Spending Falls
Home price growth hit its lowest pace in 20 months according to Case=Shiller's 20-City Home Price Index for August. Home prices grew by 5.80 percent year-over-year as compared to July's growth rate of 6.00 percent.
Analysts said that slowing growth of home prices could signal that home prices have reached their peak; Inventories of homes for sale are near the six-month inventory reading considered a normal inventory of homes for sale.
Sales have slowed in recent months due to rapidly rising home prices, high demand for homes and slim inventories of available homes. Increasing supplies of homes for sale are a sign that housing markets are balancing to accommodate prospective buyers.
Construction spending was flat in September at a seasonally-adjusted annual rate of $133 trillion. Analysts expected 0.20 percent growth in construction spending based on August's growth rate of 0.80 percent. The slowdown in spending was likely due to seasonal dips in construction activity as winter approaches.
Mortgage Rates, New Jobless Claims Fall
Freddie Mac reported lower average mortgage rates last week; rates for 30-year fixed rate mortgages averaged three basis points lower at 4.83 percent. Rates for a 15-year fixed rate mortgage averaged 4.23 percent. Rates for 5/1 adjustable rate mortgages were 10 basis points lower at 4.04 percent. Discount points averaged 0.50 percent for fixed rate mortgages and 0.30 percent for 5/1 adjustable rate mortgages.
First-time jobless claims were lower last week with 214,000 new claims filed; analysts expected 212,000 new claims to be filed based on the prior week's first-time claims 216,000 new claims filed. Reported. The Commerce Department reported 250,000 public and private sector jobs added in October. ADP added 227,000 private sector jobs in October. The national unemployment rate was unchanged at 3.70 percent.
The University of Michigan's Consumer Confidence Index reported an index reading of 137.90 in October as compared to September's reading of 135.30 and an expected reading of 136.40.
What's Ahead
This week's scheduled economic reports include the post-meeting statement from the Fed's Federal Open Market Committee along with weekly reports on mortgage rates and new jobless claims.