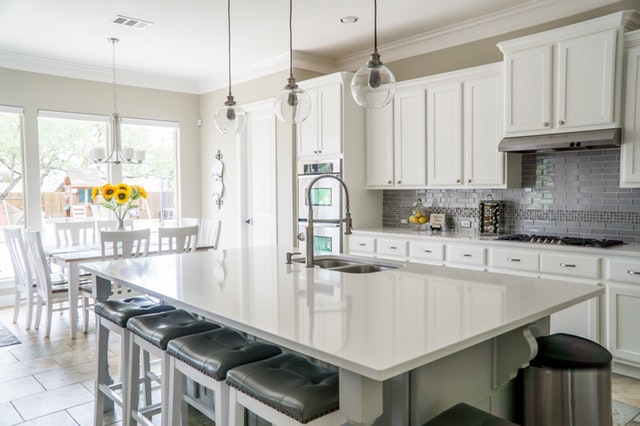 Those who want to renovate a home usually do this to make it more spacious, improve its condition, and to add amenities. However, it is also important to consider if the renovation has the potential to add value to a home.
Unless the plan is to live in the same place for life, there is a strong likelihood that, at some point, the home will go on the market for sale. It is nice if it sells for a high price and there is some profit for the seller in the transaction.
It is not the amount spent on renovations that is the key consideration. In fact, spending a lot of money making certain renovations may not improve the sales price, when the home sells. This guide helps decide between renovations that add value and ones that do not add value.
Renovations That Add Value
Renovations that add value are those things that almost everybody wants, which include:
Upgraded Kitchen: Having a professional-style cooking area and all the appliances with matching stainless steel-finishes creates an attractive upgraded kitchen. Many appreciate having an island area in the center for use as a working area when cooking large meals that doubles as an eating area for breakfast.
Luxurious Master Bedroom and Bathroom: Homes with a large master bedroom with big windows and a king-sized bed usually sell for a top price. If the master bathroom has a large renovated bathroom with a big tub, then this is a plus.
Extra Bedroom: Having another bedroom puts a home in a higher-valued category.
Lots of Closet Space: Many think that adding an extra bedroom is sufficient; however, adding extra closet space is also a great idea, especially when adding walk-in closets with his/hers vanity areas that are accessible from the master bedroom.
Green Systems: Solar energy systems that reduce the monthly utility bill are desirable. Energy-efficient windows are also attractive.
Smart Home Systems: These systems offer computer control of the home for energy efficiency, security, and convenience for the occupants.
Renovations That Do Not Add Value
Carpeting: Carpet colors are a matter of personal taste. If the carpet is not brand-new or thoroughly cleaned, it will lower the interest in the home. It is better to have nicely-finished wood or tile flooring with rugs strategically placed to create different usage areas. Offer to sell the rugs for their value with the home or to take them away.
Excessive Front Yard Decorations: There are a few homes that have so many garden gnomes in the front yard that adding another one is nearly impossible. Avoid this because not everybody appreciates this style.
Swimming Pools: For many, this is potentially negative. The cost of building a new, in-ground, swimming pool is not usually an amount recouped in the selling price. Some like pools; however, many others do not like the idea of continual maintenance and monthly expenses. Families with young children may see pools as very dangerous.
Bright-Orange Exterior Paint: It is not surprising to learn that most people do not like houses painted this color and other garish colors. Even if the paint is new, they do not usually sell for a higher price.
Summary
In general, in order to add value with renovations, do the things that most people appreciate. Complete the project for a budget to add to the purchase price of the home that will not exceed the average market value of a home of a similar type.
Homeowners who follow this general rule, get to enjoy the renovations and get their money back, perhaps with some profit, when the home sells.
If you are in the market for a new home or considering renovating your current property, be sure to contact your trusted home mortgage professional to discuss current financing options.